sherpas
BEIJING — I have been visiting the Asian Gods in their colonnaded mausoleums and wondering what they think of the societies forged in their name. How these Gods fare will be a core 21st-century question.
First, in Hanoi, there was Ho Chi Minh, worldwide wanderer (including a spell in Brooklyn), impish nemesis of French and U.S. armies, unifier of an independent Vietnam, "Uncle" to the nation; now embalmed despite his wish to have his ashes scattered. My 15-year-old son, in good Brooklyn slouch mode, was reprimanded for having his hands in his pockets and so showing insufficient respect.
... in http://www.nytimes.com/2010/01/08/opinion/08iht-edcohen.html?ref=opinion
I don't think he'd ever seen a dead body before, certainly not one preserved for four decades. The Vietnamese guards mistook awkwardness for attitude. A God in bloodless flesh is an idea that takes getting your head around.
Then, here in a glacial Beijing, on a bright morning in Tiananmen Square, having walked past a McDonald's outlet, I found myself alone with Mao Zedong, the Great Helmsman and Teacher, looking a little more florid than Ho. As there was nobody else around I thought I'd linger, but a guard was having none of that.
It seems the minutes with the wordless Gods of Asia are clocked as carefully as those with a New York lawyer.
To say a lot of people died for the ideas of Mao and Ho would be a genteel understatement. China's famine alone of 1958-1961 took an estimated 35 million lives. That was before the "terrible decade" of the Cultural Revolution — as shattering to minds as starvation had been to bodies — began in 1966.
Ho, whose long ramble through Europe and the United States is a reminder that revolutionary ideas sparked by displacement in the West are nothing new (however different from Ho today's London or Hamburg-formed anti-Western militants are), did not do things on Mao's scale. But more than three decades of war, followed by sweeping collectivization, took a toll in the millions.
These Gods were once absolute and their exactions severe. So why are they revered still? I think above all because they asserted their countries' nationhood, unity, pride and independence against Western colonization or foreign invasion and so delivered them forever from forms of humiliation.
There's really no getting away from the fact that, at some level, Mao and Ho are anti-Western Gods in an age when the West's power and moral authority are being widely questioned — a trend President Obama's global popularity can do little to stem.
Of course, Mao and Ho also hold the sway they do because the Communist parties they led still rule one-party states, and because those parties have recast the two men's ideologies. Mao Zedong's thought did not embrace that McDonald's outlet.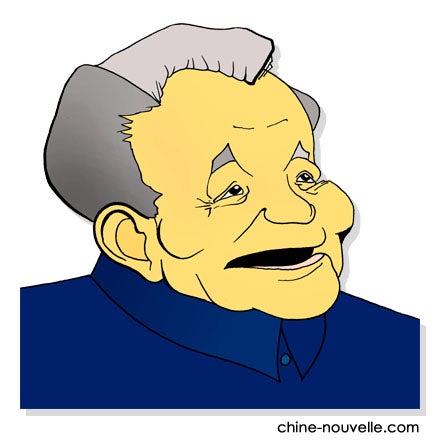 They are now, in effect, the 70-percent Gods, omniscience curtailed. Deng Xiaoping set China on the rapid-growth path that has changed the world by allowing that Mao had erred (by some 30 percent) and that a proletarian revolution that left people starving should yield to one in which people could get rich in sort-of capitalist fashion. In a similar way, with Vietnam on its knees, its Communist rulers discovered — or perhaps invented — a saying of Ho that "The poor should get rich and the rich should get richer" — to justify a market lurch.
These 70-percent Gods are interesting creatures. They no longer slaughter. They do not imprison en masse. They don't try to fast-forward to utopia.
No, they build firewalls rather than walls. They fear peaceful protest more than violent movements. They ban Facebook rather than banish folk to camps. They're less ruthless but more stressed. In short, they've gone through 21st century makeovers.
These makeovers have been successful. It's hard, but not impossible, to imagine the survival of the one-party Chinese and Vietnamese states without the fabulous growth Market-Leninism has produced.
The thing is, however, that such dynamic societies produce more educated, wealthier people; and those people in time wonder about things other than getting a bigger apartment or a car. They start wondering whether they should determine who governs them. They wonder about freedom of expression. They get irritated by corruption. They wonder why they can't Twitter.
And that is why — a great paradox — the custodians of the 70-percent Gods are so nervous at the very moment when things are going their way, when they have growth unimaginable in the West, when everyone's talking of China's rise.
Only in the light of such anxiety can China's severe recent sentencing of Liu Xiaobo, a writer and political activist, to 11 years in prison be understood. Liu was a principal figure
behind a document calling for political liberalization known as Charter 08 that declares: "We should end the practice of viewing words as crimes."
And it is similar anxiety that explains Vietnam's arrest of Le Cong Dinh, a charismatic lawyer. Dinh's promotion of pluralism has brought him charges of colluding with "domestic and foreign reactionaries."
Asia's Gods have proved elastic. The resultant gains have been staggering, for their societies and the world. But these prisoners' words are not crimes, by no means, and their plight is one measure of the tensions behind the masks.