sherpas
Barack Obama today urged Burma to release the democracy leader Aung San Suu Kyi in a landmark meeting with the country's prime minister, Thein Sein.
He made the demand during a meeting in Singapore with Thein Sein and nine other leaders of the Association of South-east Asian nations (Asean).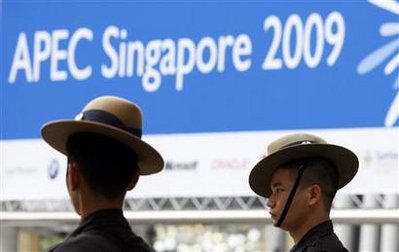 White House spokesman Robert Gibbs told reporters that Obama had "brought that up directly with that government", indicating that he had spoken directly to Thein Sein. Reports said the US president did not shake hands with the Burmese premier.
The demand is not expected to appear in a statement to be issued later today, however.
Obama was the first US president since Lyndon Johnson in 1966 to be present in the same room as a Burmese leader.
The meeting was also the first between a US president and the leaders of Asean, which was formed more than 40 years ago at the height of the Vietnam war. Obama attended the meeting as part of a nine-day visit to Asia that began in Japan on Friday.
The US and Asean have arrived at a rare consensus on the need to engage Burma in order to bring about political reforms and improvements in human rights.
Obama recently launched a new policy of engagement with Burma's military junta, while insisting that sanctions would stay in place until there were signs of real progress.
According to reports, the draft joint statement said Obama and his Asean counterparts hoped the new two-pronged approach would "contribute to broad political and economic reforms" in Burma.
"We also underscored the importance of achieving national reconciliation and that the general elections to be held in Myanmar in 2010 must be conducted in a free, fair, inclusive and transparent manner in order to be credible to the international community," it said.
Aung San Suu Kyi is serving 18 months in detention after a Burmese court recently found her guilty of allowing an uninvited American guest stay at her home in violation of the terms of her house arrest.
Critics of the dictatorship denounced the trial and verdict as an attempt to exclude her from elections due to be held next year.
Her opposition National League for Democracy won elections in 1990 but the result was never recognised by the junta, which has ruled Burma since 1962.
Aung San Suu Kyi, who has spent 14 of the last 20 years in detention, has said she supports the White House's fresh approach, and earlier this month met Kurt Campbell, Obama's top diplomat for east Asia in a rare trip outside her dilapidated mansion in Rangoon.
... in http://www.guardian.co.uk/world/2009/nov/15/obama-aung-san-suu-kyi-release-burma
Speaking in Tokyo yesterday, Obama made a point of mentioning Aung San Suu Kyi by name, adding that Burma would only find "true security and prosperity" by releasing her and more than 2,000 other political prisoners.
He acknowledged that years of US sanctions against Burma, coupled with engagement by its Asian neighbours, had failed to bring about change.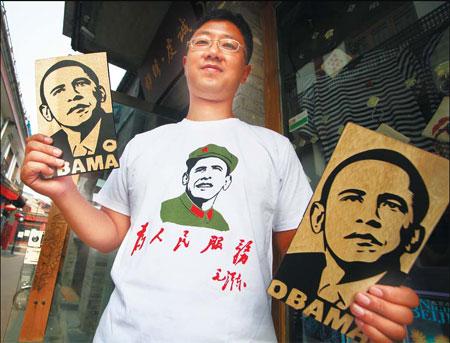 "Despite years of good intentions, neither sanctions by the US nor engagement of others have succeeded in improving the lives of Burmese people," he said.
"So we are now communicating directly with the leadership to make it clear that existing sanctions will remain until there are concrete steps toward democratic reform.
"There are clear steps that must be taken."
... sim, acredito num MUNDO melhor... é possível!!!... Sherpas!!!...